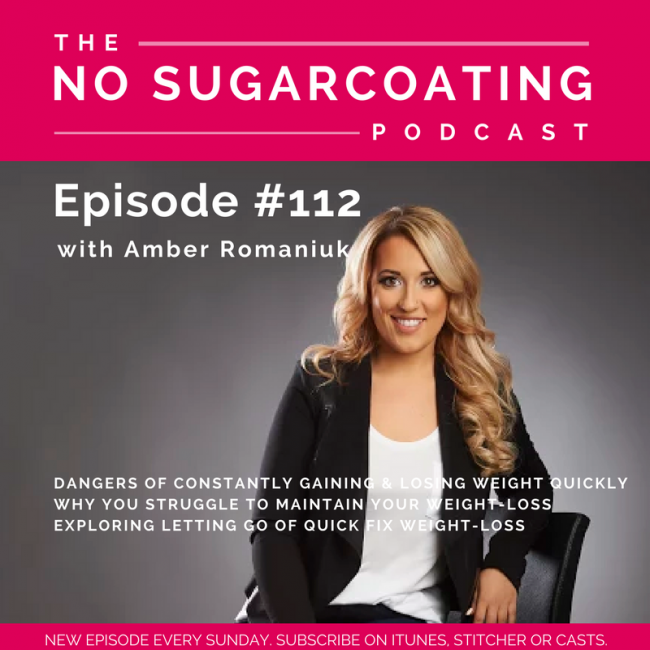 In this episode of The No Sugarcoating Podcast I am talking about
Dangers of Constantly Gaining & Losing Weight Quickly
Why You Struggle to Maintain Your Weight-Loss
Exploring Letting Go of Quick Fix Weight-Loss
TIMESTAMPS
** Announcements (01:22).
** Dangers of Constantly Gaining & Losing Weight Quickly (05:23).
** Why You Struggle to Maintain Your Weight-Loss (18:10).
** Exploring Letting Go of Quick Fix Weight-Loss (26:03)
Subscribe and listen on iTunes or your favorite podcast app.
SHOW NOTES + LINKS
Email me at [email protected] with the subject line "Group Coaching Program" to save and secure your spot for the 2018 Body Freedom To Healthy Weight-Loss Group Program.
Get the Winter edition of Amber Approved Magazine & subscribe http://bit.ly/1pCfKDP
Join The No Sugarcoating Private Facebook Group: http://bit.ly/2d1r1Qa
Check out my Youtube Channel Here for more transformational videos: http://bit.ly/2i6UmxJ
Listen to Episode 71 about my one-on-one coaching here: https://amberapproved.ca/podcast/71/
Be sure to follow me on Instagram @amberromaniuk
MY PARTNERS
Botanica is here with premium-quality nutritional products; supplements for daily use; and natural herbal remedies that can provide you with a little extra help, when you need it most. They are curators of some of the world's most amazing, purest and most functional medicinal plants, herbs and superfoods. Their ingredients originate from smaller, trusted sources and whenever possible, are wildcrafted or certified organic. No shortcuts. No synthetic derivatives. A strict product verification and quality control process ensures that Botanica products contain only good things, and never the not-so-good such as pesticides or contaminates.
Please visit their website for more information at Botanicahealth.com.