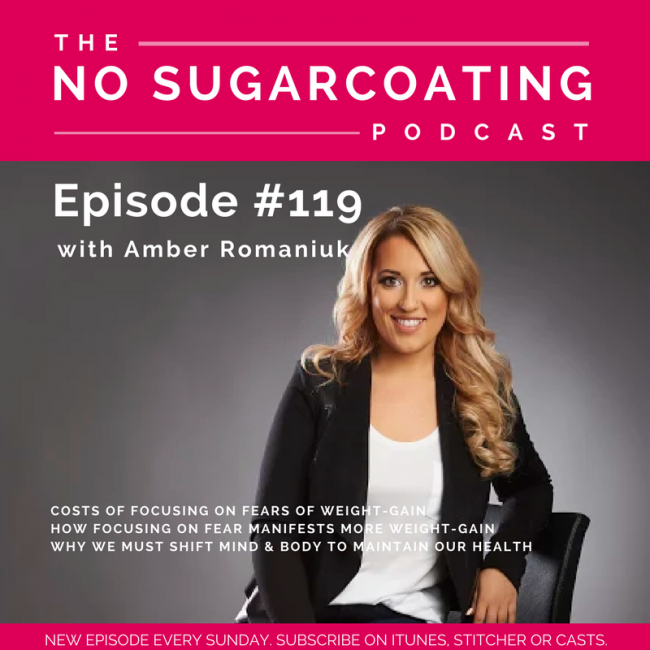 In this episode of The No Sugarcoating Podcast I am talking about

Costs of Focusing on Fears of Weight-Gain
How Focusing on Fear Manifests More Weight-Gain
Why We Must Shift Mind & Body To Maintain Our Health
TIMESTAMPS
** Announcements (01:01).
** (04:57).
** (17:22).
**  (26:48).
Subscribe and listen on iTunes or your favorite podcast app.

SHOW NOTES + LINKS
Email me at [email protected] with the subject line "Coaching Sale" to save $600.00 off my 1 year and six month coaching programs.
Get the Fall edition of Amber Approved Magazine & subscribe http://bit.ly/1pCfKDP
Join The No Sugarcoating Private Facebook Group: http://bit.ly/2d1r1Qa
Check out my Youtube Channel Here for more transformational videos: http://bit.ly/2i6UmxJ
Listen to Episode 71 about my one-on-one coaching here: https://amberapproved.ca/podcast/71/
Be sure to follow me on Instagram @amberromaniuk
MY PARTNERS
The No Sugarcoating Podcast is proud to partner with High-Vibe Health, Alberta's only certified organic bone broth company!
Creating the most nutritive, mineral and collagen-rich bone broth products to support the body in areas of gut health, inflammation, bone and joint integrity, immunity, hormone health, anti-aging, and so much more! Try one of their four organic bone broth flavours, including chicken, turkey, beef and bison, or indulge in a guiltless, health-ful "treat" with their organic Chocobroth, a decadent and delicious bone broth chocolate elixir. Looking for immune supporting treats for the kids? High-Vibe Brothsicles are packed with fresh, organic fruit, blended with mineral-rich broth, and are sugar-free- freezies the whole family will love! Nourishing the people is High-Vibe Health's utmost priority, and they make shopping easier than ever with their online store, and delivery to your door.
Visit www.highvibehealth.ca to learn more.