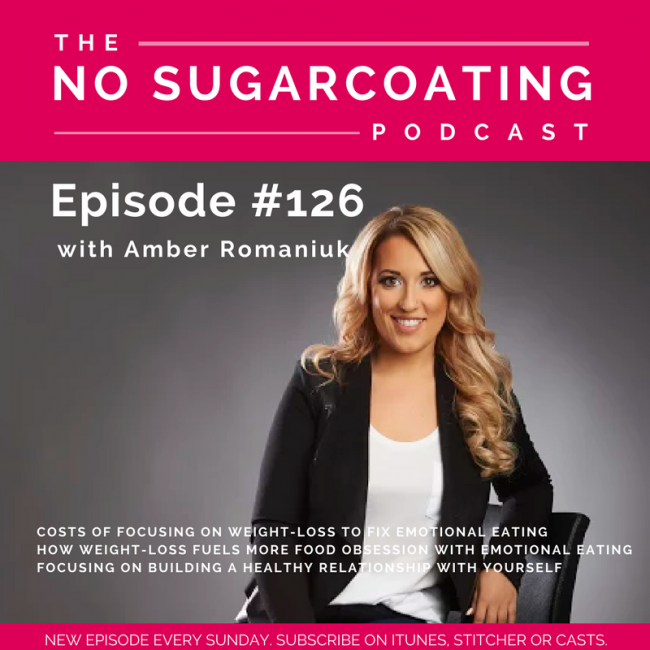 In this episode of The No Sugarcoating Podcast I am talking about
Costs of Focusing on Weight-Loss To Fix Emotional Eating
How Weight-Loss Fuels More Food Obsession with Emotional Eating
Focusing on Building A Healthy Relationship With Yourself
TIMESTAMPS
Announcements (01:28)
** Costs of Focusing on Weight-Loss To Fix Emotional Eating (08:20).
** How Weight-Loss Fuels More Food Obsession with Emotional Eating (16:57).
** Focusing on Building A Healthy Relationship With Yourself (29:40).
Subscribe and listen on iTunes or your favorite podcast app.
SHOW NOTES + LINKS
Email me at [email protected] with the subject line "Group Program" to secure your 50% savings on "8 Week Step Into Your Body Freedom Program." Read more info here: https://amberapproved.ca/q4wb
Get the Spring edition of Amber Approved Magazine & subscribe http://bit.ly/1pCfKDP
Join The No Sugarcoating Private Facebook Group: http://bit.ly/2d1r1Qa
Check out my Youtube Channel Here for more transformational videos: http://bit.ly/2i6UmxJ
Listen to Episode 71 about my one-on-one coaching here: https://amberapproved.ca/podcast/71/
Be sure to follow me on Instagram @amberromaniuk
Take the Emotional Eating Quiz: https://amberapproved.ca/emotional-eating-quiz
MY PARTNERS
The No Sugarcoating podcast is proud to partner with Lifance Natural Skincare. At Lifance they are committed to creating Natural and Organic Skin Care that is highly effective, honest and transparent. Lifance is a new generation of skin care that has a conscious. They believe in highly effective formulas that deliver the results women want, without the nasty, unnecessary chemicals. This is called "Clean Chemistry".
Natural doesn't mean "less effective", at Lifance we seek out the most luxurious and potent ingredients from Land and Sea that have a high impact on facial skin. Lifance is also made in Canada and offers $10 shipping on all orders. Be sure to learn more by visiting their website at www.lifanceskincare.com and receive 15% off your order by using the coupon code AMBERAPPROVED.