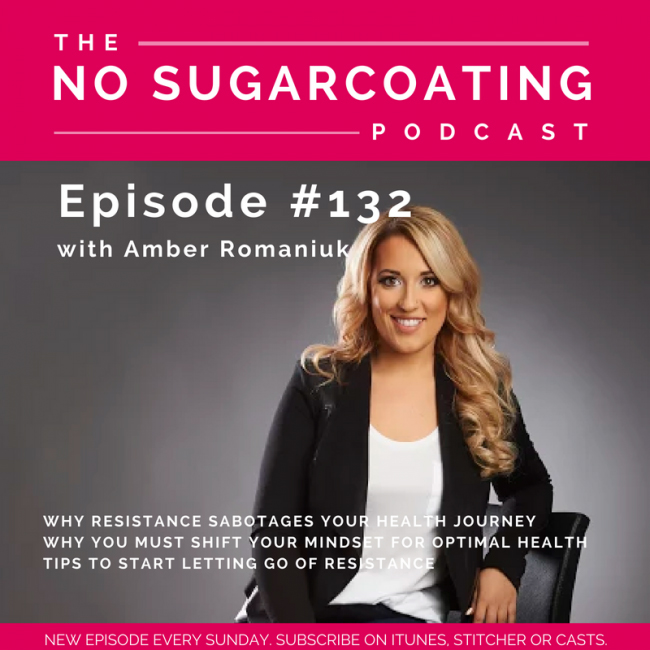 In this episode of The No Sugarcoating Podcast I am talking about:
Why Resistance Sabotages Your Health Journey
Why You Must Shift Your Mindset for Optimal Health
Tips To Start Letting Go of Resistance
TIMESTAMPS
** Announcements (01:10).
** Why Trying Harder With Your Health May Keep You Stuck (04:45).
** Exploring The Costs of The "Trying Harder" Pattern (11:50).
**  Understanding The Body Wisdom You Desire (22:50).
Subscribe and listen on iTunes or your favorite podcast app.
SHOW NOTES + LINKS
Email me at [email protected] with the subject line "Spring Sale" to save $700.00 on 6 month and 1 year coaching programs.
Take my free Emotional Eating Quiz here: https://amberapproved.ca/emotional-eating-quiz
Get the Spring edition of Amber Approved Magazine & subscribe http://bit.ly/1pCfKDP
Join The No Sugarcoating Private Facebook Group: http://bit.ly/2d1r1Qa
Check out my Youtube Channel Here for more transformational videos: http://bit.ly/2i6UmxJ
Listen to Episode 71 about my one-on-one coaching here: https://amberapproved.ca/podcast/71/
Be sure to follow me on Instagram @amberromaniuk