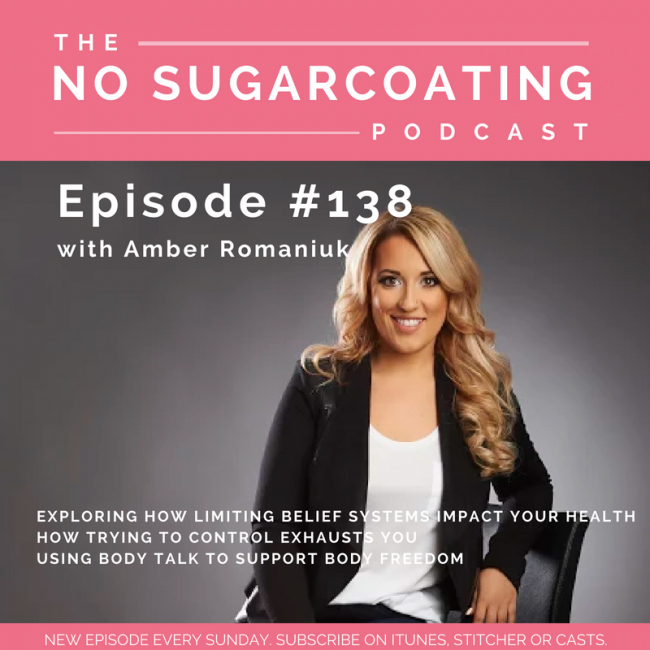 In this episode of The No Sugarcoating Podcast I am talking about
Exploring How Limiting Belief Systems Impact Your Health
How Trying To Control Exhausts You
Using Body Talk To Support Body Freedom
TIMESTAMPS
** Announcements (01:27).
**Exploring How Limiting Belief Systems Impact Your Health       (07:00).
** How Trying To Control Exhausts You (11:10).
** Using Body Talk To Support Body Freedom (31:10).
Subscribe and listen on iTunes or your favorite podcast app.
SHOW NOTES + LINKS
Email me at [email protected] with the subject line "Summer Coaching Sale" to save $700.00 on 6 month and 1 year coaching programs and book your 30 minute Complimentary Body Freedom call today.
Take my free Emotional Eating Quiz here: https://amberapproved.ca/emotional-eating-quiz
Get the Summer edition of Amber Approved Magazine & subscribe http://bit.ly/1pCfKDP
Join The No Sugarcoating Private Facebook Group: http://bit.ly/2d1r1Qa
Check out my Youtube Channel Here for more transformational videos: http://bit.ly/2i6UmxJ
Listen to Episode 71 about my one-on-one coaching here: https://amberapproved.ca/podcast/71/
Be sure to follow me on Instagram @amberromaniuk
Be sure to check out www.edenwholistic.com for a 30 minute complimentary consultation offer either in person or over the phone.
My Partners:
Cheryl Ramsay Bio
Cheryl's journey into BodyTalk began with her own health issues.  Cheryl had suffered with chronic headaches most of her life.  The headaches were increasing in frequency and duration to the point that she was having headaches twice a week with them lasting two days at a time.  She tried numerous traditional and alternative therapies without any success. When she attended her first BodyTalk session in August 2011 she had a profound experience and knew that BodyTalk was something that she wanted to understand deeper.
In 2012 she attended studies and became a certified BodyTalk Practitioner.  In January 2014 she successfully completed all requirements of the International BodyTalk Association to become an Advanced Certified BodyTalk Practitioner.  At that time, she opened Eden Wholistic where she offers BodyTalk sessions to her clients, either in person or through distance communication. She continues to pursue further education both through the International BodyTalk Association and with other holistic avenues.
Cheryl is delighted to have the opportunity to bring awareness and opportunities to her clients for their personal healing and self-growth.  BodyTalk is focused on finding the causation of dis-ease and balancing the body/mind; Cheryl very much advocates that philosophy.  Healing is multifaceted and what works for one person will not necessarily resonate with another.  A personalized healing approach is necessary for true healing to occur.  Cheryl enjoys journeying with her clients to find the causes of their dis-ease and working through what is holding them back from true health and vitality.  It is a calling for her and she is honored to be of service to her clients.