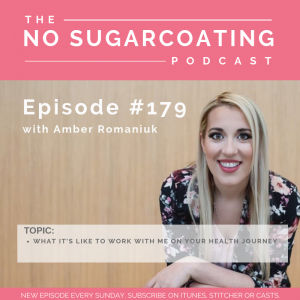 In this episode of The No Sugarcoating Podcast I am talking about:
— What it's Like to Work With Me on Your Health Journey                                                                           
Subscribe and listen on iTunes or your favorite podcast app.
 SHOW NOTES + LINKS
** Email me at [email protected] with the subject line "Coaching Sale" to save substantially on my 6 month and 1 year coaching programs. Book your 30 minute Complimentary Body Freedom call today.
** Take my free Emotional Eating Quiz here: https://amberapproved.ca/emotional-eating-quiz
** Get the Winter edition of Amber Approved Magazine & subscribe http://bit.ly/1pCfKDP
** Join The No Sugarcoating Private Facebook Group: http://bit.ly/2d1r1Qa
** Check out my Youtube Channel Here for more transformational videos: http://bit.ly/2i6UmxJ
** Listen to Episode 71 about my one-on-one coaching here: https://amberapproved.ca/podcast/71/
** Be sure to follow me on Instagram @amberromaniuk
MY PARTNERS
The No sugarcoating podcast is proud to partner with Prairie Naturals Enzyme Force. 
Enzyme-Force is a powerful and complete plant-based digestive enzyme blend.
• This complete enzyme provides a protein-digesting blend of protease, bromelain and papain, for the effective digestion of proteins.
• A wide variety of carbohydrate-digesting enzymes to increase energy and reduce gas production.
And FibraZyme™ for the effective breakdown of fibre found in grains, nuts, seeds, fruits and vegetables -releasing trapped
minerals.
• Enzyme-Force is allergen-free and contains no  yeast, starch, soy, corn, egg, wheat, gluten, dairy, sweeteners, artificial colour, preservatives, chemical solvents, alcohol or animal products. Is Vegan, "non-GMO" and tested gluten-free
What Does EnzymeForce Do?
• Enhances energy from carbohydrates
• Increases nutritional value of food, especially protein
• Improves the absorption of amino acids
• Improves digestion, elimination & bowel health and much more.
Be sure to read more at www.prairienaturals.ca and to locate the nearest store to purchase.