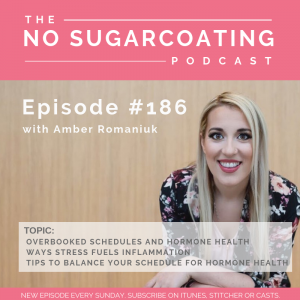 In this episode of The No Sugarcoating Podcast I am talking about:
— Overbooked Schedules and Hormone Health
— Why Quick Fixes aren't in Support of Your Health
— Why it's Life Changing to Spend Time on Your Health
TIMESTAMPS
Announcements (01:16)
** Overbooked Schedules and Hormone Health (06:48).
** Ways Stress Fuel Inflammation (30:28).
** Tips To Balance Your Schedule for Hormone Health (34:52).
Subscribe and listen on iTunes or your favorite podcast app.
SHOW NOTES + LINKS
** Email me at [email protected] with the subject line "Coaching Sale" to save substantially on my 6 month and 1 year coaching programs. Book your 30 minute Complimentary Body Freedom call today.
** Take my free Emotional Eating Quiz here: https://amberapproved.ca/emotional-eating-quiz
** Get the Winter edition of Amber Approved Magazine & subscribe http://bit.ly/1pCfKDP
** Join The No Sugarcoating Private Facebook Group: http://bit.ly/2d1r1Qa
** Check out my Youtube Channel Here for more transformational videos: http://bit.ly/2i6UmxJ
** Listen to Episode 71 about my one-on-one coaching here: https://amberapproved.ca/podcast/71/
** Be sure to follow me on Instagram @amberromaniuk
MY PARTNERS:
The No Sugarcoating Podcast is proud to partner with High Vibe Health. High Vibe Health is Alberta's only certified organic bone broth company, and creator of Chocobroth- a chocolate bone broth drink that actually tastes like hot chocolate warm, or chocolate milk chilled, and is gluten-free, dairy-free, refined-sugar free, bone broth-FULL, and paleo friendly. Check out High-Vibe Health online at www.highvibehealth.ca to shop their organic bone broths, bone broth soups, broth pops, and Chocobroth. Visit them at their broth shop in Midnapore, Calgary to take advantage of special offerings like gluten-free bone broth cookies.