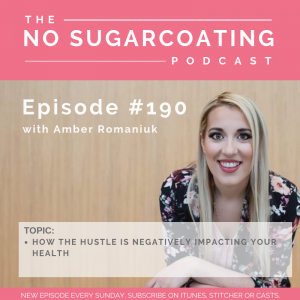 In this episode of The No Sugarcoating Podcast I am talking about:
— How The Hustle is Negatively Impacting Your Health
TIMESTAMPS
Announcements (01:35)
** How The Hustle is Negatively Impacting Your Health (06:42) .
Subscribe and listen on iTunes or your favorite podcast app.
SHOW NOTES + LINKS
** Email me at [email protected] with the subject line "Coaching Sale" to save substantially on my 6 month and 1 year coaching programs. Book your 30 minute Complimentary Body Freedom call today.
** Take my free Emotional Eating Quiz here: https://amberapproved.ca/emotional-eating-quiz
** Get the Winter edition of Amber Approved Magazine & subscribe http://bit.ly/1pCfKDP
** Join The No Sugarcoating Private Facebook Group: http://bit.ly/2d1r1Qa
** Check out my Youtube Channel Here for more transformational videos: http://bit.ly/2i6UmxJ
** Listen to Episode 71 about my one-on-one coaching here: https://amberapproved.ca/podcast/71/
** Be sure to follow me on Instagram @amberromaniuk
MY PARTNERS
The No Sugarcoating Podcast is proud to partner with High Vibe Health. High Vibe Health is Alberta's only certified organic bone broth company, and creator of Chocobroth – a chocolate bone broth drink that actually tastes like hot chocolate warm, or chocolate milk chilled, and is gluten-free, dairy-free, refined-sugar free, bone broth-FULL, and paleo friendly. Check out High-Vibe Health online at www.highvibehealth.ca to shop their organic bone broths, bone broth soups, broth pops, and Chocobroth. Visit them at their broth shop in Midnapore, Calgary to take advantage of special offerings like gluten-free bone broth cookies.
Hippie Snacks
The No Sugarcoating Podcast is proud to partner with Hippie Snacks. Hippie Snacks is committed to high quality, non-GMO ingredients, all sourced from sustainable farmers and processors. Their snacks are minimally processed in British Columbia, with nutrient dense ingredients you can pronounce. The company celebrates natural foods and only uses pure, simple, whole-food ingredients.
Hippie Snacks just launched new Cauliflower Crisps and Avocado Crisps. They are baked, crispy and delicious. Check out hippiesnacks.com to see their full line up of snacks.