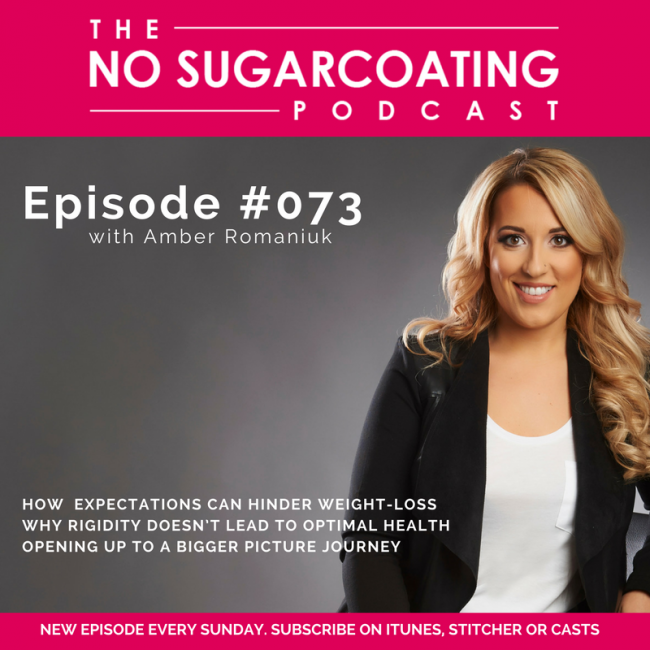 In this episode of The No Sugarcoating Podcast, I am talking about
How  Expectations Can Hinder Weight-Loss

Why Rigidity Doesn't Lead To Optimal Health

Opening Up To A Bigger Picture Journey
SHOW NOTES + LINKS
Email me about the Spring Jump Into Your Body Freedom Group program at [email protected] with the subject line "Group Program" for more information and to secure your spot and save 50% to be one of the first five people to sign up.

Get the spring edition of Amber Approved Magazine & subscribe http://bit.ly/1pCfKDP
Subscribe and listen on iTunes or your favorite podcast app.
TIMESTAMPS
Announcements: 01:50

How Expectations Can Hinder Weight-Loss: 08:25

Why Rigidity Doesn't Lead To Optimal Health: 20:51

Opening Up To A Bigger Picture Journey: 22:46
OUR PARTNERS
Adorn Infusions is a Calgary-based apothecary with a focus on self-care rituals and beauty from the inside out. She curates beautiful products to heal the skin and nourish the mind with aromatherapy. Her products are made locally in small batches using the purest of botanicals.
Online listeners from Canada get 15% off their first online order using the code nosugarcoating15
Check out Adorn Infusions online on Instagram @adorninfusions.