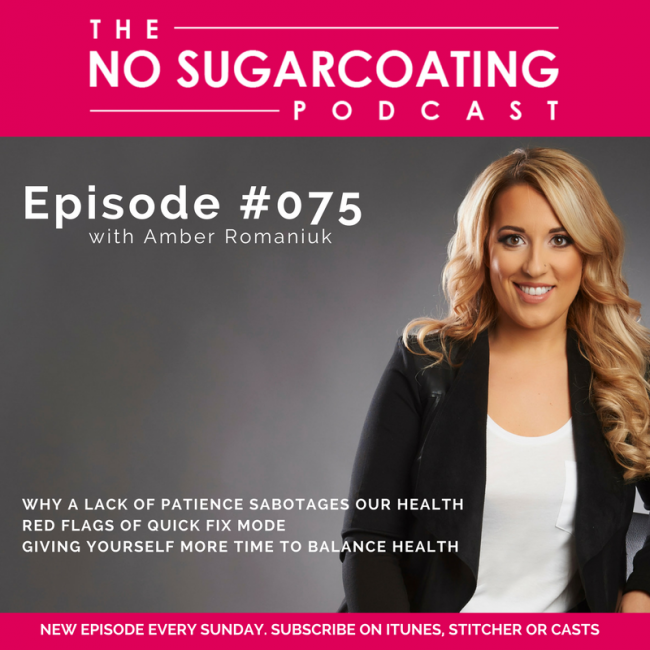 In this episode of The No Sugarcoating Podcast, I am talking about
Why a Lack of Patience Sabotages our Health

Red Flags of Quick Fix Mode

Giving Yourself More Time to Balance Health
SHOW NOTES + LINKS
Take advantage of the $600.00 savings on my one year program for one-on-one coaching until April 24th. E-mail me at [email protected] with the subject line "Podcast Coaching Sale" to book your complimentary consult and get your questions answered.

Email me about the Spring Jump Into Your Body Freedom Group program at [email protected] with the subject line "Group Program" for more information and to secure your spot and save 50% to be one of the first five people to sign up.

Get the spring edition of Amber Approved Magazine & subscribe http://bit.ly/1pCfKDP
Subscribe and listen on iTunes or your favorite podcast app.
TIMESTAMPS
Announcements: 01:42

Why a Lack of Patience Sabotages our Health: 06:41

Red Flags of Quick Fix Mode: 12:07

Giving Yourself More Time to Balance Health: 23:04
OUR PARTNERS
Adorn Infusions is a Calgary-based apothecary with a focus on self-care rituals and beauty from the inside out. She curates beautiful products to heal the skin and nourish the mind with aromatherapy. Her products are made locally in small batches using the purest of botanicals.
Online listeners from Canada get 15% off their first online order using the code nosugarcoating15.
Check out Adorn Infusions online on Instagram @adorninfusions.