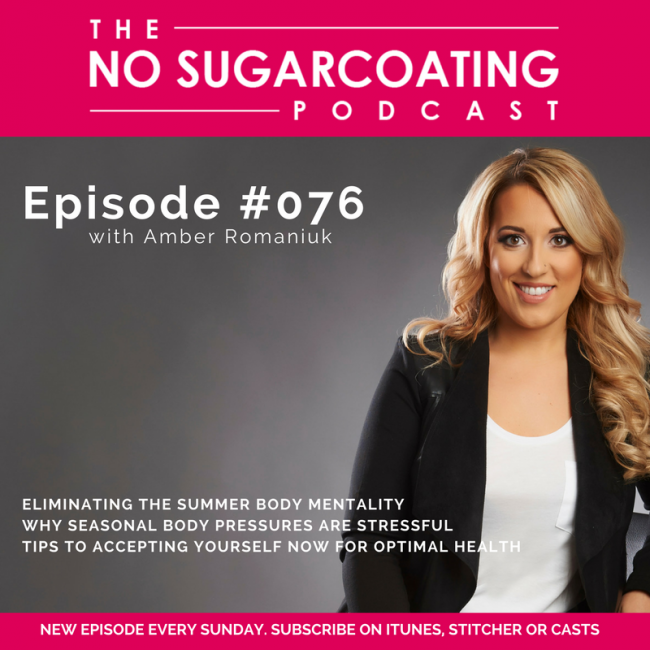 In this episode of The No Sugarcoating Podcast, I am talking about
Eliminating The Summer Body Mentality

Why Seasonal Body Pressures Are Stressful

Tips To Accepting Yourself Now For Optimal Health
SHOW NOTES + LINKS
Get the spring edition of Amber Approved Magazine & subscribe http://bit.ly/1pCfKDP
Join The No Sugarcoating Private Facebook Group: http://bit.ly/2d1r1Qa
Check out my Youtube Channel Here for more transformational videos: http://bit.ly/2i6UmxJ
Listen to Episode 71 about my one-on-one coaching here: https://amberapproved.ca/podcast/71/
Get tickets to the "Cacao-licious" workshop here: http://bit.ly/2o46RsZ
Check out our guest Maria at www.foodbymaria.com
Subscribe and listen on iTunes or your favorite podcast app.
TIMESTAMPS
Announcements (

01:41

)
Eliminating The Summer Body Mentality (

06:44

)
Why Seasonal Body Pressures are Stressful (

11:24

)

Tips To Accepting Yourself Now For Optimal Health (27:35)
MY PARTNERS
Adorn Infusions is a Calgary-based apothecary with a focus on self-care rituals and beauty from the inside out. She curates beautiful products to heal the skin and nourish the mind with aromatherapy. Her products are made locally in small batches using the purest of botanicals.
Online listeners from Canada get 15% off their first online order using the code nosugarcoating15.
Check out Adorn Infusions online on Instagram @adorninfusions.
ABOUT FOOD BY MARIA
FoodByMaria is a safe place where Maria talks about her past, shares original healthy recipes and interacts with more than 95,000 engaged followers. Her website, blog and social media platforms act as a podium from which to tell inspiring stories about food created to help others embrace a rewarding, health-focused lifestyle. Maria believes that food is our friend and that there is no need to compromise flavour on the path to health and happiness. Her love of food, advanced cooking ability and the fact that her personal testimony includes beating bulimia after a six-year struggle, makes her site relatable and inspiring on a variety of levels. Equipped with a passion for healthy living and an online community that continues to grow, FoodByMaria is expanding to include a variety of publications designed to help others achieve the same lust for life she showcases with every colourful post. Maria's personal and professional goals revolve around a desire to work closely with her community, local producers and anyone out there who, like her, want food to be their friend.