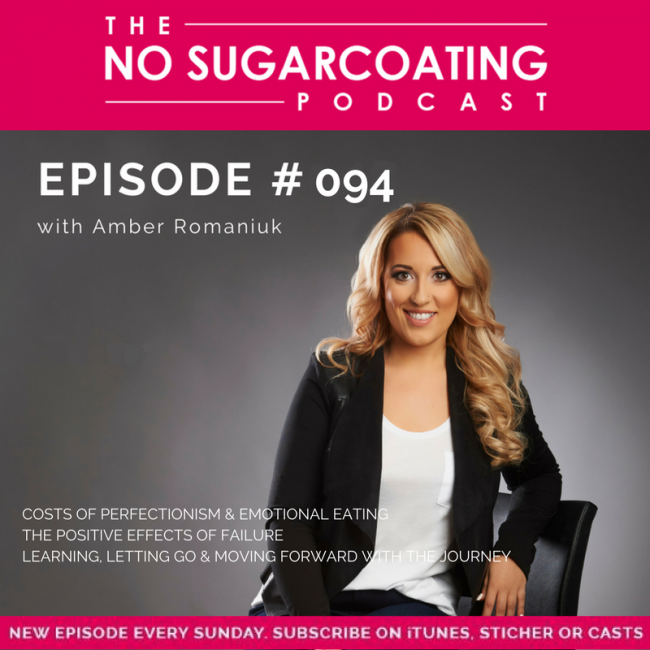 In this episode of The No Sugarcoating Podcast I am talking about
Costs of Perfectionism & Emotional Eating

The Positive Effects of Failure
Learning, Letting Go & Moving Forward With The Journey
SHOW NOTES + LINKS
E-mail me at

i

[email protected]

with the subject "Summer Sale" to save $600.00 off on my 6 month and 1 year programs until September 17th.

Get the Summer edition of Amber Approved Magazine & subscribe

http://bit.ly/1pCfKDP

Join The No Sugarcoating Private Facebook Group:

http://bit.ly/2d1r1Qa

Check out my Youtube Channel Here for more transformational videos:

http://bit.ly/2i6UmxJ

Listen to Episode 71 about my one-on-one coaching here:

https://amberapproved.ca/podcast/71/
E-mail me at

[email protected]

with the subject line "Group Program" to learn more about the "Slowing Down for Self-care" Fall Group Program and how to secure your spot and save 25% off until August 31st

Be sure to follow me on Instagram @amberromaniuk
Subscribe and listen on iTunes or your favorite podcast app.
TIMESTAMPS
** Announcements (01:20).

**

Costs of Perfectionism & Emotional Eating

(05:29).

**

The Positive Effects of Failure

(23:43).

**

Learning, Letting Go & Moving Forward With The Journey

(35:09).
MY PARTNERS
The No Sugarcoating Podcast is proud to partner with Vagus Fitness. Life's not slowing down & neither should you.
From hiking through the Rockies to keeping up with your grandkids—gain the strength, energy and mobility to fully enjoy life's adventures. It's personal training that's actually personal.
Sign-up for a free $100 gift card and see how Vagus Fitness supports 50+ and those with bone and joint problems live the life they were meant to by visiting

www.vagusfitness.com

.