27 Feb 2018
Blueberry Pitaya Parfait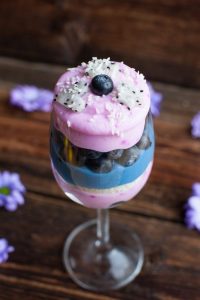 Blueberry Pitaya Parfait
2018-02-27 12:09:34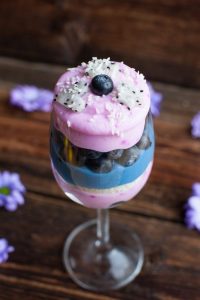 Serves 2
Ingredients
A handful of blueberries (for layering)
2 tsp unsweetened shredded coconut
Blueberry layer
A handful of blueberries
¼ tsp blue majik
¼ Yoso Coconut Yogurt
Pink layer
¼ cup Yoso Vanilla Coconut Yogurt
½ tsp pink pitaya powder
4 fresh strawberries
White layer
¼ cup Yoso Vanilla Coconut Yogurt
Instructions
Blend blueberries, Yoso yogurt and the blue majik in a blender until smooth.
In a wine glass add half of a handful of blueberries to the bottom of it.
Blend the pink layer ingredients in a blender until smooth and add half of the mix on top of the blueberries.
Add a layer of coconut then the blueberry layer and on top the white layer and repeat until the glass is full. Top it all off with blueberries and shredded coconut. Enjoy!
Notes
Special Thanks to
Yoso (www.yoso.ca) for their amazing unsweetened coconut yogurt.
E3live Canada for the amazing Blue Majik Spirulina which is a stunning blue pigment. This is a certified organic proprietary extract of Arthrospira platensis, a Nutrient Dense Aqua Botanical. It is made up primarily of Phycocyanin, a powerful antioxidant which can quench free radicals, boost mood and more. Be sure to check out www.e3livecanada.ca for more information and more products.
Photos by Lisa San Filippo
Moments Marketing provides photography for social media, websites and corporate events as well as offers marketing consulting services. It's also a sister company to Moments Photography, a portrait photography company. Lisa is the owner, creative visionary and chief photographer of Moments Marketing and owner and photographer of Moments Photography. www.momentscalgary.com
Amber Approved http://amberapproved.ca/
Tags Related
You may also like
Comments