In this episode of The No Sugarcoating Podcast with guest Katie Mant we explore:
Vulnerability, Business Success & Holding True to Your Values 
Shop all Masterclasses, Self-Study Programs and the Body Freedom Membership: https://amber-romaniuk.mykajabi.com/store
SHOW LINKS:
Subscribe and listen on iTunes or your favorite podcast app.
PLAYER HERE

TIMESTAMPS
** Vulnerability, Business Success & Holding True to Your Values with Katie Mant (05:21).
About my Guest: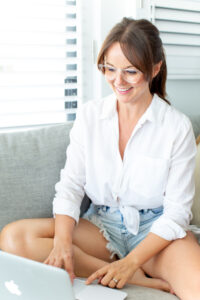 Katie Mant is a visionary entrepreneur and founder of global holistic wellness brand BON CHARGE, a revolutionary company providing science-backed at-home wellness tools to optimise people's wellbeing.
Recognising the growing dis-ease in society as a result of modern lifestyles, Katie founded BON CHARGE in 2017 with a desire to help others elevate their wellbeing without sacrificing their modern-day conveniences.
Through her vision, dedication and unrelenting drive, Katie has taken BON CHARGE from a fledgling start-up in her spare bedroom with just $1500 personal investment to a rapidly expanding multi-million-dollar company, serving customers all across the globe.
Named one of the top business leaders in Australia, Katie is not your typical 'girl boss. As a self-confessed introvert, Katie has shown that you CAN grow an empire without being the stereotypical dominant Alpha.
Katie's committed to making a meaningful impact through her work and her passion for innovation, placing education at the forefront of everything she does. Her motto is to always stay curious, keep learning and never stop striving to upgrade yourself and those around you.
Website: boncharge.comInstagram: @boncharge_ Personal Instagram: @katiemant_